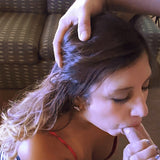 Boy/Girl Video
$16.99
Watch video preview at: 

  or  


This girl was sent to us by her boyfriend who wanted to watch his girl do porn (which makes him a badass). She gives a long blowjob looking up at you with those pretty eyes, and then kneels on a chair for some doggystyle and a creampie finish that puddles on the floor beneath her as it drips.
Stream at ManyVids.com, click here. 
(~43 min.)