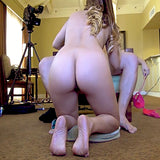 BJ Video
$8.99
This is a nice fluffer session, before her scene, with a girl who came to us because her boyfriend wanted to see his girl do porn. She is a total sweetheart that gives such innocent, slow, soft and silent head but is willing to meet up with complete strangers, strip down to nothing and get on all fours to suck someone's cock she just met, all on film, just to please her man. Hope he appreciates it or she'll be off doing whatever some other lucky guy wants. 

Don't want to download? 
Get the streaming version at ManyVids.com, click here. 


~13 minutes